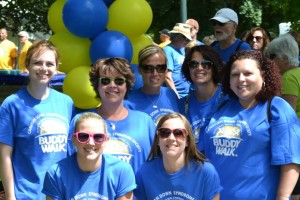 Here's a snapshot of our team at the  Halton Down Syndrome Association's 2nd Annual Buddy Walk in June 2014.
Back row, left to right: Keely Powley, Laurien Tremblay, Kristen Ligon (past staff), Jen Bourdeau (past staff) & Belinda Cruz
Front row, (crouching) left to right: Nikki Atherton-Kotack & Jennifer Caie
Our toddler and preschool teachers are wonderful! Dedicated, enthusiastic, and committed to providing your child with the very best care.  You won't find teachers better than the staff of Bronte Harbour!
Meet our teachers:
Laurien Tremblay, RECE   "Mrs. T"
Executive Director
Preschool
Nikki Atherton-Kotack, RECE  "Miss Nikki"
Preschool
Jennifer Caie, RECE "Mrs. Caie"
Preschool & Toddler
Keely Powley, RECE "Mrs. Powley"
Toddler
Belinda Cruz "Mrs. Cruz"
Toddler